Nov 23 2015
Passion Play
Recently a close friend reminded me of
how close I am to the final years of my life
– in fact, I'm living them now. She gently chastised me for focusing on extraneous work and worries, saying,
"You've got to get on your own horse, and pull your own wagon to the finish line."
Meaning, I realized, that I need to focus on the work I want to accomplish and to complete in this lifetime, and also that the 'finish line' draws closer every single day. I took what she said seriously and began
a practice of discerning what 'my wagon' is
. In the process I remembered this:
My earliest experience of professional theatre happened when I was a girl in Texas. The family made a trek to a huge Houston auditorium to see what they told me was called a Passion Play. I didn't know until I got into the theatre what that Passion meant: Easter week in the life of Jesus. Certainly a story I knew well in those days; my family members were dedicated Christians, Methodists. And passion was what I felt. Not just for the story itself, but for the tremendous difference I experienced when the story was enacted. To see actors alive on stage, living a story before my eyes! What was born in me that day so many years ago was certainly passion, a passion for live theatre, for sacred plays.
In a recent conversation with another dear friend, I realized that's what I want to do with the remainder of my years: provide a "stage" for people to recognize, celebrate, perhaps even enact, the passionate stories of their lives.
Thus was born my work for 2013:
a series of Gatherings in which participants make a journey from the creation of the universe all the way to active, individual creativity, learning to know themselves as passionate artists of life. It's called an Evolutionary Journey, from Creation to Creativity, and we will meet here in Ashland, OR.
August, 2013: Summer and Smoke and Fifty Shades of Gray
Yesterday, mists and gentle rain fell from a sky made buoyant by clouds carrying many shapes and shades of grey. The blistered Oregon earth welcomed the rain and the promise of rain as only she can, with wide-open welcoming arms. After so many weeks of fires all around us, and smoke dense enough to cut, the sky looked beautiful beyond description with all that rain in its bosom.
The teaching of the summer weather and events can be summarized: Creativity is the Default Position. No matter what is happening around us, we can generate something new – a drawing, a poem, a pot, a prayer, an image – to help express the story of what we discover while creating. Even in the middle of a world on fire.
Autumn/Winter Dreams
During the two final sessions of our Evolutionary Journey, we explore the root systems of creativity. How do we source our creativity? How do we nurture it? How do we sustain it? How do we share it appropriately?
Enriching the Roots of Creativity
November focus will be on the root systems of the Trees of Life, Love, and Joy, and how our dreams provide sacred material to feed those roots.
In December, we honor the source and support of the Trees of Beauty, Inspiration, and Imagination, and pay attention to how we seed our lives as art for the days and years to come.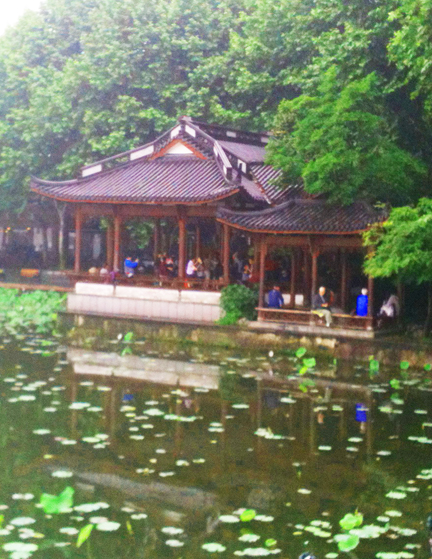 Spring, 2013: Home from China
Traveling as the "entourage" of Dr. Jean Houston, and feeling resistant but resigned to the whole thing (China being "the last country I have any desire to see") what to my wondering eyes should appear there but beauty, kindness, courtesy, hospitality, greenness, a sense of solid groundedness in a history that includes every possible thing, and an ocean of legend, tradition, and story.  All alive and welcoming.
We were guests of the government of China at a conference of the Taihu World Cultural Forum, to listen and discuss issues of creating an Ecological Civilization. Ervin Laszlo, noted artist, scientist, educator, philosopher, writer, and one of the founders of this Forum, was the reason Jean was invited, and I got to go as her companion.  We listened and talked and wondered and pondered, and met people from 32 countries, each with a different point of view, and each concerned about how to create in Jean's words, "a world that works for everyone."  And a world in which everyone has access to clean water, air, and soil.  And enough food.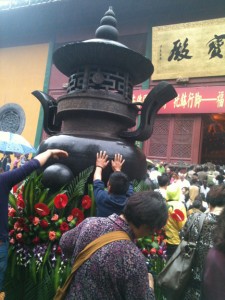 The Chinese, who have taken seriously their desperate need for clean air and water, want to make it clear to the rest of us that they are willing to take the lead and get the job done.  The Cultural Forum is named after a Taihu Lake which until a few years ago was dead, but because of their determination to clear and cleanse it, is now alive again.
The city that played host to the Forum is Hangzhou, some 150 kilometers southwest of Shanghai, 2200 years old, with a civilization stretching back 8000 years.  It is home to numerous Buddhist shrines and temples, in a landscape filled with Taoist and artistic inspiration.  Most important to me, Hangzhou is the site of the legend of the White Snake, a story that came alive last year in an unforgettable production at the Oregon Shakespeare Festival.  It tells of a wise snake who studied Taoist texts for centuries and learned the secrets of transformation, became a woman, fell in love with a human, and endured fierce trials and battles for that love.  For the Chinese, it's first and foremost a love story, but like most ancient legends, holds many meanings.  Hangzhou's beautiful West Lake is the site where the White Snake met her human love.
Sacred Theatre In 2013
The Power of Story meets
The Fullness of Being
We live by story.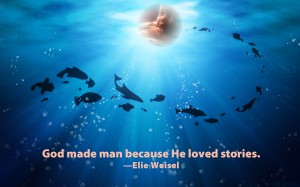 We believe stories. We tell stories to ourselves. We tell stories to others.
Stories challenge us; stories evolve us. We pay attention to stories.
They create a cauldron of plenty that sustains us in hours of sorrow and pain, exalt us in hours of joy and delight. Now and again we notice how stories are related to one another. Sometimes we stir ancient stories of creation and world-making into this cauldron; sometimes we discover or make up delicious stories of love and desire, and add them to our storehouse/cauldron.
However we play with stories we find they can open doors to the land of the soul and illumine pathways to healing, to wisdom, to the fullness of Being. That's our goal for Sacred Theatre in 2013. Finding ways to the Throne of Being through the power of story.
We will gather stories, enact stories, honor stories, inspire new stories, change stories.
You're invited.
Three Workshops
* May in Michigan, May 3-5
(For information contact Sandy Ladd,
ladd88888@aol.com)
* October in New Jersey, 10-14 and 17-20
(Patti Kaufman pattik.mac@me.com)
* November in Oregon, November 21-24
(Trish Broersma, Epohna@aol.com)
Farewell to a great and deeply loved teacher
Elaine de Beauport, author of a wonderful book, Three Faces of Mind, and a fearless, daring explorer of the brain, the mind, and the soul, died earlier this month after a long and gallant contest with multiple myeloma.  The school she founded many years ago, the Mead School, will host a memorial in Elaine's honor in May.
One of her longtime students and friends, Irena Rutenberg, had a sweet thought: each of her friends could devise a statement as though we were composing an epitaph for Elaine. Mine is, "Elaine lit a holy fire in my head; her heart ignited it, her teachings fed it, her wisdom gave it a song to sing."  I can never thank her enough.
The Gospel According to Her
A many-years project will go on line interactively in 2013 as HerGospel.com. The Book of The Lady, a bible presented from the point of view of the Divine Feminine carries a new title, The Gospel According to Her, and will include ancient stories of the goddess, along with art (both ancient and modern), as well as stories, poems, and praise songs written by people today. Read more about this project here.
Here is a sample from "The Book of Nurture"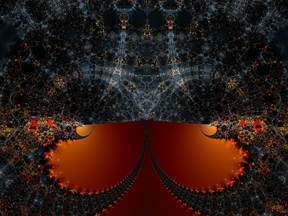 The Dark Mother speaks:
The Dark Mother speaks:
I am the Voice in the whirlwind,
in the place others call, and experience as,
Chaos.
I am above, below, within the Chaos.
I am the darkness.  And I am the One to seek when you
need to source yourself in joy,
in peace, in turbulence.
But beyond, beyond, way beyond
the normal experience of darkness,
I invite you into the Darkness — beyond and before and after Time.
This is your Source, your Origin.
If things fall apart,
if you fall apart,
come into my all-holding embrace.
I am the energy that shapes and holds universes together.
Can I do any less for you?
There is pressure in my holding
and incalculable power — so
after a time of rest you may begin to feel the pressure
of new birth — persistent, insistent.
I who shape galaxies
do not hesitate to shape you —
fiercely, perhaps — but truly to your most
elegant and beautiful design.
Your design — like the galaxy —
is glorious to behold.
And in my vast darkness
I hold that pattern, and desire
you to recognize it, to become it.
You will not fly apart,
though it may feel like it.
I am holding you and
I am holding your becoming.
—Peggy Rubin
Read more about The Gospel According to Her HERE.
To Be and How To Be
The prize-winning book that invites you to Transform your Life through the Nine Powers of Sacred Theatre, is now available as an e-book. The publisher, Quest Books, says it can be found anywhere on-line books are sold. Download it now, and carry it everywhere! Find out more about the book HERE.