A Month for Sourcing Ourselves in Joy


January 1 to February 9, 2023
Welcome to this new year and the joyful month of seeking, finding, and celebrating the thousand and one sources of joy. Here is a playful possibility
Imagine this scene:

Animals, birds, angels, and other creatures gather together with the idea of singing praise—each in her own language—to a mysterious creator. Timelessly singing with delight and joy about the creation. And wanting more of it!
These wise early beings sensed that singing exuberant, extravagant praise supports inspiration. In this case it inspired laughter and this laughter from their creator exploded seven times, bringing about seven amazing new creations: including light; water; holy beings — one who manifests needs and desires, and another to sustain these manifestations; then came time; then justice; and, triumphantly, the Soul to infuse all creation.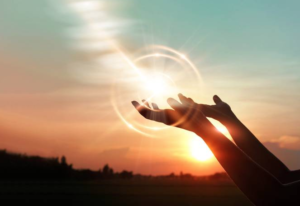 Think of praise as multiplied gratefulness. We sing out gratitude. We sing out praise to life for life, for trees , for ideas, for chocolate, for music, for beauty, for happiness, for water, for food, for children, for grandchildren – all the things that you encounter in your day. Just saying thank you is prayer enough, say the mystics. But we want to generate more joy, so we amp it up with praise. And you know what? It's fun!
So, during this month, amp up your joy by singing praise, in your own language, as only you can, to everything created and everyone who created it. Sing praise until it makes you laugh. And notice what you might create by laughing.
Joy in the World
And in me.


Praise, Praise. Praise
Buy the calendar:

The Lady's Year for Joy
The Lady's Year for Joy is your personal guide and journal as you seek, focus, explore, test, recognize, experience, embrace, offer, and report
the truth of Joy in the world.
For you and for gifting your friends — this new calendar will enrich your daily reflections.
$25.00 plus shipping
Join the Daily Poets via Telephone
In 2010, several members of Jean Houston's West Coast Mystery School joined to support one another with a daily phone call to ponder the inspirational writings collected by Peggy Rubin. All are welcome to join the calls. For those who wish to join the call at 9 am Pacific time the number is 1-605-313-4818 (new in April, 2019), code 884124#. Read more about them HERE.
Sign Up to Receive Peggy's Posts on Practicing Joy in the World via Email:
See subscription in footer area, below.