Practicing Joy in the World
Month by Month Reflections for the Year of Joy
Nine Goddesses to Nurture Nine Steps on the Path of Joy

First Month: Sourcing in Joy  January 1 – February 9
Goddess: Adi Para Shakti
Imagine a lotus flower born from the earth and covering the earth.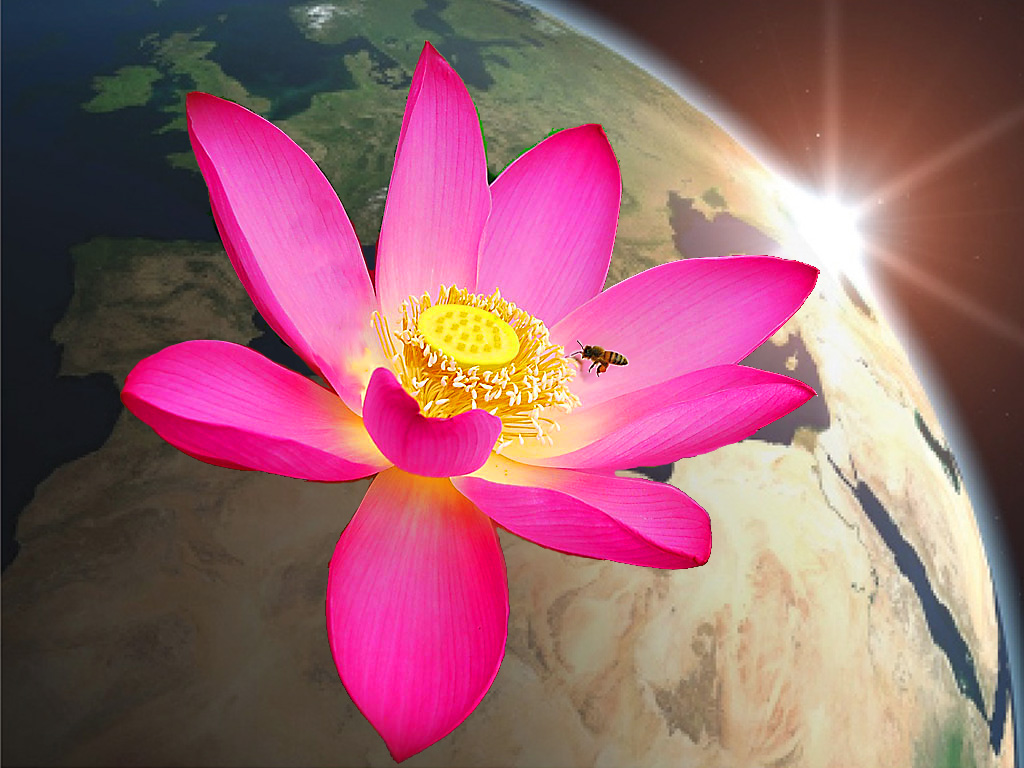 This magic lotus has eight petals, each petal lifting up, filling the world with one particular aspect of joy. At the center of the lotus lies the heart of practicing joy: Sourcing in Joy.
That's where we begin. Finding sources and resources of joy everywhere we look. In the woolen mittens, in the cat's blinking eyes, in the weave of the rug, in the bare branches of winter trees, in the snow lying sedately on the mountain top, in the tenderness of friends and lovers… everywhere we look everywhere we are.
Here's the Great Lady who can guide us to discover ever deeper, even abiding sources of joy:
Adi Para Shakti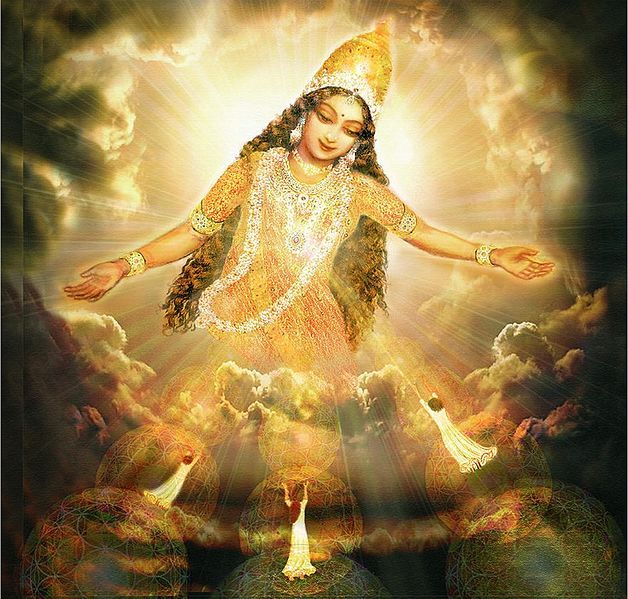 Adi Para Shakti is the Hindu original and originating Energy of all creation–the universe and all life. Everything is filled with Her glory, beauty, power, and surpassing joy.
Fill yourself with Her volcanic holy energy.
Energy begets energy. That's what the old saying means: "Take one step to the gods, and the gods take ten steps to you."
Take one step toward Adi Para Shakti, with an audible, visible word of praise, or of dedication to the idea of Joyful Sourcing, and she will come rushing to you, bearing potent gifts that source you richly in Joy.
The Lady's Year of Joy
In the Lady's Year of Joy, each of the aspects of joy carries the name of a month. Joyful Sourcing holds the month that extends from the secular calendar days of January 1 to February 10. A good way to begin a new year! Sourcing in Joy to add to Joy in the World. The next month is Joyful Beliefs, and you'll meet the Goddess of that month soon. Buy the calendar:

The Lady's Year of Joy: The Calendar
Explore a Ninefold Path that brings, finds, celebrates, enhances and strengthens Joy. The year consists of nine months, each named for a step on the Ninefold Path, and each with 40 days. It is perennial, that is, not tied to any particular year. Each month is divided into four weeks of ten days each, and each week is devoted to one of the elements, Earth, Water, Fire, and Air. $15.00 plus shipping
Join the Daily Poets via Telephone
In 2010, several members of Jean Houston's West Coast Mystery School joined to support one another with a daily phone call to ponder the inspirational writings collected by Peggy Rubin. All are welcome to join the calls.  For those who wish to join the call at 9 am Pacific time the number is 1-641-715-3272, code 884124#. Read more about them HERE.
Sign Up to Receive Peggy's Posts on Practicing Joy in the World via Email:
See page top right.