Practicing Joy in the World
May 1 – June 9
Joy curled into my heart
with the lilac
and chose to live there
where it can bloom forever.
This forty-day month between May Day and June 9 inspires a practice for growing joy. So richly you can touch it as it flowers. What better time than these moments in our hemisphere of preparing and planting, or watching and caring for the miracles happening all around us every day. Our guides are the earth and all who dwell thereon, the surging spring waters, the sun's warming fire, and the stirred and stirring breezes. To these four we add the element of space, as we invoke the correspondence of outer element to inner embodiment.
Earth: our bodies
Water: our blood and bodily fluids
Fire: our bodies' warmth
Air: our breath
Space: our consciousness
The practice this month is delicious. The first part is wild acceptance of those things that give you joy. Acceptance of joy means to take it into your body/mind so vividly that it makes you high, literally changes you. Pay attention as it nestles in and shifts how you feel and experience the world. Then comes the give back when you acknowledge what has been given you. In words, out loud.
Examples: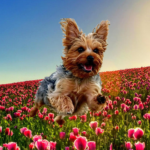 Earth
After a gentle rain my brother's Yorkshire terrier grows delirious with joy, exploring the scents in and under every blade of grass and flower. Her body shivers with delight and she pulls on the leash, demanding, "More, more, now, now." Simply imagining what she's experiencing brings shivers to my own body, and I feel something akin to her ecstasy, creating a cascade of joy that thrills and tickles and changes me – my mood, my outlook, my day. Once I have taken in all I can manage, I acknowledge the gifts she and the earth have given me. Thank you, Callie, thank you, grasses and flowers. Leaning down to pat her and touch the earth in gratitude, I feel the dog's joyous response (which grows the joy); even the blades of grass seem to nod. Accepting and Acknowledging my joy in the joy they have so generously bestowed.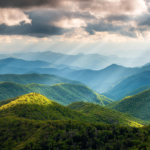 Water
A few days spent among the mountains of Western North Carolina awakens a new vision of the mystery dance that clouds can perform. Clouds of every shade from billowing white to thundering, lightning-powered blue-black, and every imaginable shape as well. Sometimes they roar from on high, sometimes they embrace the mountains in gauze, fragile and delicate. They contain many colors of rain too, and many kinds of rainfall – at times sleet, or tiny promises of drops, or massive sheeting, drowning downpours. Sometimes they wisp on by without releasing their hold of water, teasing and tantalizing the thirsty land. When they touch the mountains' rock faces, they bestow sheen and glisten, and more color. Inviting this panoply of cloud amazements to work its magic in my body, I feel all these inner cloud waters filling my inner sky, painting it with refreshment and delight. How can I keep from singing, and waving my thanks – and once I have sung out my feelings, I sense an answering acknowledgement when tiny raindrops bless my head.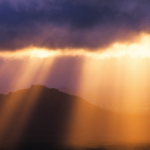 Fire
In the midst of all that cloud glory there comes a moment when old Father Fire Himself, the Sun enters the scene, and suddenly the sky rejoices, the earth rejoices as his warmth pierces through, looking like a divine fiery eye, huge and beneficent. It glimpses my body's warm fires, and suddenly everything is bathed in light and joy springs forth volcanically from everywhere. My soul feels the heat, as I take the Sun inside and grow ever more enchanted by its holy gifts. This time my acknowledgment comes through in a poem, which I recite aloud to the sun. And I imagine it responding, growing the general joy, by winking behind a waiting cloud and then sailing forth again, brighter than ever.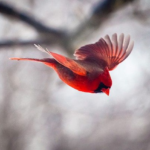 Air
Early morning in the Great Smoky Mountains brings redbird song, and a glimpse of brilliance as he takes flight after enjoying his breakfast seeds. That songs sounds like a question and an answer, as well as a pronouncement that life is…here and wildly alive! With my breath I whistle a response, doing my best to imitate his joyful statement. Silence greets my attempt, then he sings again, definitely a question this time, making me laugh. Drinking deep of the sound and the wing song in the air I whistle my appreciation again. I hear him laugh.
Accepting and Acknowledging Joy in the World. And in me.
Buy the new calendar:

The Lady's Year for Joy
The Lady's Year for Joy is your personal guide and journal as you seek, focus, explore, test, recognize, experience, embrace, offer, and report
the truth of Joy in the world.
For you and for gifting your friends — this new calendar will enrich your daily reflections.
$25.00 plus shipping
Join the Daily Poets via Telephone
In 2010, several members of Jean Houston's West Coast Mystery School joined to support one another with a daily phone call to ponder the inspirational writings collected by Peggy Rubin. All are welcome to join the calls. For those who wish to join the call at 9 am Pacific time the number is 1-641-715-3272, code 884124#. Read more about them HERE.
Sign Up to Receive Peggy's Posts on Practicing Joy in the World via Email:
See page top right.