Joyful Service and Sharing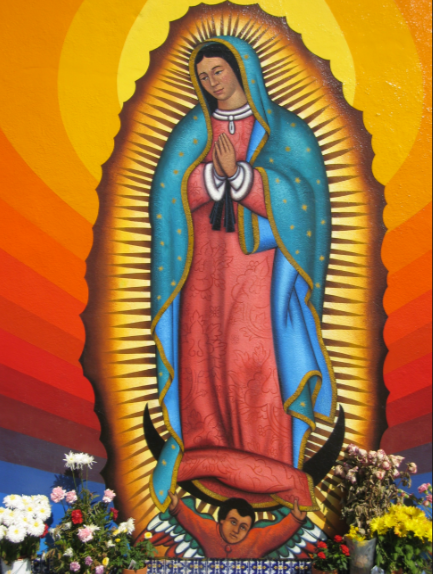 November 17 – December 26
The Goddess who presides over this lotus petal in the Path of Joy is the Virgin of Guadalupe.
Over, beyond, above and within the Lady, whose face serves as a symbol of Latin America, as an emblem for the struggle for national independence, as protector of the unborn, as the Roman Catholic Empress of the Americas, the Virgin of Guadalupe carries a profoundly personal truth, in both history and legend.
Her truth is a mystery of timelessness, appearing, as the legend tells us, on the site where the holy mother of the Aztecs stood for countless generations before. Her name in those days was Tonantzin, Our Revered Mother.
Guadalupe's Service: She inspires courage.
"Do not be afraid. Let nothing disturb you."
These are words the Virgin spoke to the young farmer Juan Diego to whom She appeared (so the story goes) one morning some 480 years ago on Tepeyac Hill, near present-day Mexico City.
"Am I not here, I, who am your mother?  Are you not under my shadow and protection?  Are you not in the hollow of my mantle, the crossing of my arms?  Am I not the source of all your joy?  What more do you need?" 
She spoke to Juan Diego in his native language, as She speaks to us in words we can understand. She urged him to do an impossible thing: approach the bishop and inform him that The Lady wished to have a temple built on this site. She asks us also to do impossible things, things of high service, assuring us that She is all we need, and that there is nothing to be afraid of.
Create in this space and in this and in this, a sense of temple, of holiness. Treat all Her spaces with tenderness and devotion.
Her Sharing: She heals and She brings beauty.
She assured Juan Diego that his desperately sick uncle was healthy again, and repeats Her request to tell others, even people in authority, that all earth is sacred and deserves to be cared for as for a temple.
When the authority demands proof, she offers roses – in December in a place where no roses grow. So She does with us: fills us with beauty, and when we appear before the doubters, we simply open ourselves and roses pour out.
Her request?
Make a temple right here, right now – of your heart, your home, this street corner, dedicated to the Great Mother of all Beings. Fill it with beauty in your mind's eye, your soul's imagining. Share the beauty with others. With all beings, everywhere.
Our part
Live with courage in the arms of the Holy Mother. Walk in beauty. Bestow beauty. Share Joy, Serve with Joy.
Joy in the World.
Coming up next is five days for the birthdays of the Joyful Gods, and you'll meet them soon.
Buy the calendar:

The Lady's Year of Joy: The Calendar
Explore a Ninefold Path that brings, finds, celebrates, enhances and strengthens Joy. The year consists of nine months, each named for a step on the Ninefold Path, and each with 40 days. It is perennial, that is, not tied to any particular year. Each month is divided into four weeks of ten days each, and each week is devoted to one of the elements, Earth, Water, Fire, and Air. $15.00 plus shipping
Join the Daily Poets via Telephone
In 2010, several members of Jean Houston's West Coast Mystery School joined to support one another with a daily phone call to ponder the inspirational writings collected by Peggy Rubin. All are welcome to join the calls. For those who wish to join the call at 9 am Pacific time the number is 1-641-715-3272, code 884124#. Read more about them HERE.
Sign Up to Receive Peggy's Posts on Practicing Joy in the World via Email:
See page top right.