2020 work includes a suggestion: Begin a process to create your own Bible to and for the Great Goddess, however and whoever you imagine or experience Her to be.
First of the endeavors could be to consider and devise your personal Book of Hours, honoring with words and art the hours when it feels appropriate to pause, and bless the time, and join in a conversation with your Inner Goddess.
Here are samples from friends Pat Heck and Patti Kaufman who share their book of hours spanning a single day, to inspire your beginning. Their descriptions of their process in creating their personal book of hours are here to help you along your way.
Pat Heck's reflection on the creative process for her Book of Hours:
After researching various renditions of a Book of Hours creating one seemed a daunting challenge. The way in for me was to realize that I did not have to follow any preset form. I did not have to write songs, psalms, prayers to a specific saint or goddess, or to just one. I could write the Hours that speak to me, today. I got inspiration from looking at some pieces I created and haikus I wrote, some of which I used. I also found it important to feel the hour and to listen to what it had to say for me so I could put the words and images together. I read through them everyday."
Patti Kaufman's reflections on her Book of Hours, entitled The Hours of a Goddess Day:
My process in painting and writing has always come from the intuitive insights of my spiritual core. As I prepared to write THE HOURS OF A GODDESS DAY, the images that represent each hour seemed to volunteer themselves. In trusting my process, I asked the images their place in time and they gave me the words. While writing the Hours, I realized how a 24 hour cycle adds a spiritual purpose to the transition of time."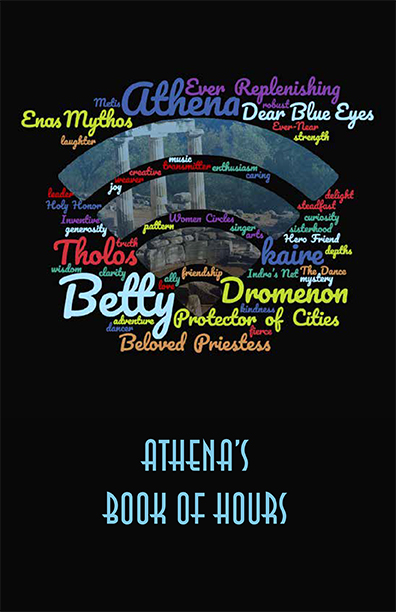 Also included here is a Book of Hours created by friends for Betty Rothenberger, who was a devotee of the goddess Athena, that follows the ancient tradition of including seven full days, a week's devotions.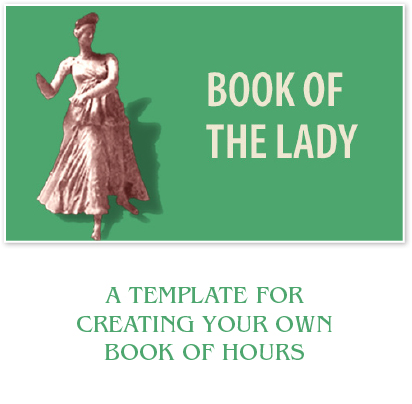 The wise and powerful Trish Broersma, graphic artist extraordinaire, has devised a matrix that you can download from this website to begin this beautiful, reflective process for yourself.