Practicing Joy in the World
November 17 – December 26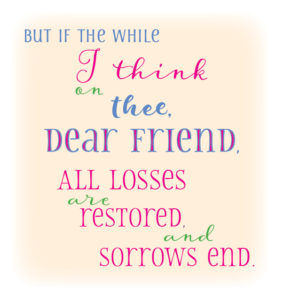 Shakespeare reminds us that the potency of this month of Joyful Service and Sharing dwells in activating, re-activating, claiming, and reclaiming friendships. The joy of that activation stirs the soul and sends us out as messengers of delight to bestow friendship toward others in acts of caring thoughtful service. Writing letters, sending packages, donating money and time, walking the neighborhood and bestowing kind blessings with every step, every thought – all these help create the world anew and sweeten the generous universal field that sustains everyone.
"My religion is kindness," says the Dalai Lama, and these days moving into deep wintertime are days to practice kindness, through making friends, beings friends, loving friends. Sometimes I think that this is one of the fierce lessons women had to learn through thousands of years of patriarchy: how to be a friend. This lesson can help us (and our world) survive and foster survival, thrive and foster thriving for those who come after us.
This month's joy spreads out through the element of Air, and beyond that into Space and Spaciousness. Each act of kind sharing and serving from the place of friendship can be dedicated to the well being of all creatures, and travel out as prayer, as song, as desire — floating out beyond, way beyond, into the holiest of airs, the very realm of Bliss/Being.
That very thought brings the joy of laughter. So enjoy a taste of Bliss/Being this month.
When you call a friend just to say "Hello; I am thinking of you."

When you buy his breakfast.

Or let her buy yours.

Sit together playing gin rummy, or working a jigsaw puzzle.

Or stroll through the park, stopping to encourage a child at play.

Or pick up a piece of trash from the Earth's dear face.
Consider all such actions as acts to enrich the Field of Friendship. Amplify the thought and send it on as warmth and delight spreading out as Joy to the World.
Buy the calendar:

The Lady's Year for Joy
The Lady's Year for Joy is your personal guide and journal as you seek, focus, explore, test, recognize, experience, embrace, offer, and report
the truth of Joy in the world.
For you and for gifting your friends — this new calendar will enrich your daily reflections.
$25.00 plus shipping
Join the Daily Poets via Telephone
In 2010, several members of Jean Houston's West Coast Mystery School joined to support one another with a daily phone call to ponder the inspirational writings collected by Peggy Rubin. All are welcome to join the calls. For those who wish to join the call at 9 am Pacific time the number is 1-641-715-3272, code 884124#. Read more about them HERE.
Sign Up to Receive Peggy's Posts on Practicing Joy in the World via Email:
See page top right.