Practicing Joy in the World
July 20 – August 28
The enchanting summer days make it delightful and sweetly pleasant to stay on the path of joy. That's one reason this is the month of celebrating our capacity to remain dedicated to that path.  But it can also be a tricky time, when the hottest days overtake us, and we notice that hot as they are, they are also growing shorter.  Then there comes a day, usually in late August, when the blue of the sky actually changes into a different blue, and we realize we are moving into autumn.  So this time of Dedication can be as sweet as ripe peaches, and also hold bittersweet qualities as we are reminded once again that everything changes.  That's why this month's poetry selection is from the work of William Stafford.  
The Way It Is
There's a thread you follow. It goes among
things that change. But it doesn't change.
People wonder about what you are pursuing.
You have to explain about the thread.
But it is hard for others to see.
While you hold it you can't get lost.
Tragedies happen; people get hurt
or die; and you suffer and get old.
Nothing you do can stop time's unfolding.
You don't ever let go of the thread.
We are following the thread that is the Path of Joy.  And for Dedication we remember to hold on to that thread, through changes, difficulties, and pain.  Joy is.  
Let's make it easy this month to remain dedicated to this path by focusing on a particular aspect within the element of Earth, and its correspondence to our bodies.  We also hold the element of Space (our consciousness) as we consider two particular summer sources of great joy.  Things that enliven the Earth and delight our bodies as we participate in them:  Summer Festivals, and the Roads we travel to reach them.
Music and theatre and dance form the mainstay of most of the festivals, and they are taking place now in many places of our Earth where summer reigns.  Notice how paths to the festivals are filled with joy: friends traveling together, picnics, laughter, adventures, excursions, and music music music.  And plays.  Or dance.  
Dedication to the Path of Joy seen as a path to summer festivals provide a clue to the purpose of the path. Chief Leon Shenandoah tells the story in these words:
Everything is laid out for you.
Your path is straight ahead of you.
Sometimes it's invisible, but it's there.
You may not know where it's going
But you have to follow that path.
It's the path to the Creator.
It's the only path there is.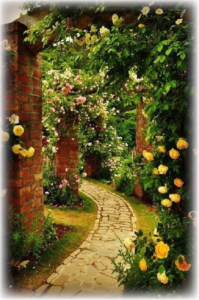 Dedicated to adding to the Joy in the World. And in me.
Buy the new calendar:

The Lady's Year for Joy
The Lady's Year for Joy is your personal guide and journal as you seek, focus, explore, test, recognize, experience, embrace, offer, and report
the truth of Joy in the world.
For you and for gifting your friends — this new calendar will enrich your daily reflections.
$25.00 plus shipping
Join the Daily Poets via Telephone
In 2010, several members of Jean Houston's West Coast Mystery School joined to support one another with a daily phone call to ponder the inspirational writings collected by Peggy Rubin. All are welcome to join the calls. For those who wish to join the call at 9 am Pacific time the number is 1-641-715-3272, code 884124#. Read more about them HERE.
Sign Up to Receive Peggy's Posts on Practicing Joy in the World via Email:
See page top right.